Our Dental Practice is Growing!
Our St. Croix Falls dental office has two dentists on staff to serve and care for you.
Drs. Amin Uddin, and Frank Crain, and Karly Canney, along with our entire dental care team are enthusiastic dental professionals dedicated to providing honest and friendly service. We combine our experience and passion to bring a smile to every face that walks through our door! We want the experience of going to the dentist to be positive for you and your whole family.
At St. Croix Family Dentistry, our primary goal is to help you achieve and maintain excellent oral health. Our dentists are here to serve your dental needs at any stage of life.
Some of our more common treatments include:
Crowns
Veneers
Root Canals
Implants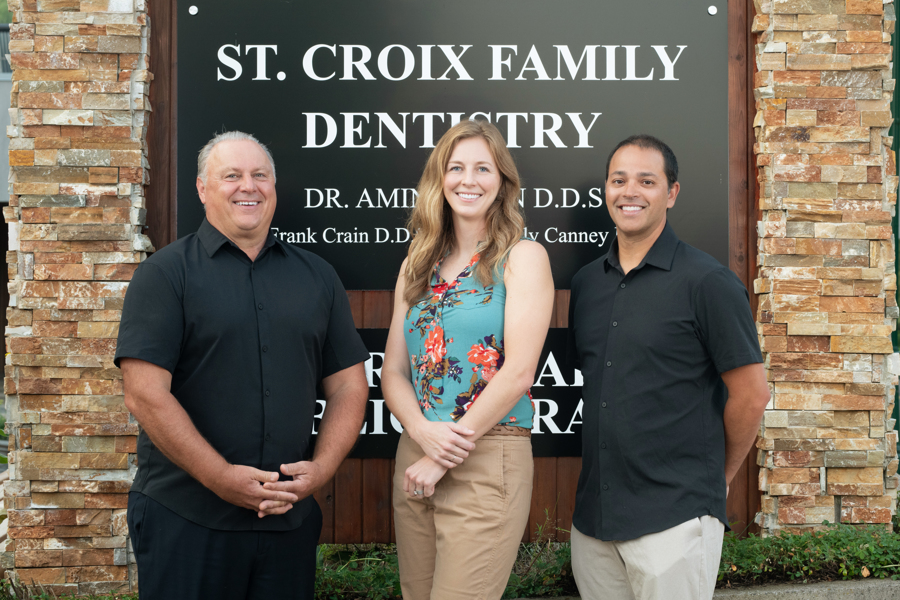 If you're like millions of Americans, you've probably experienced the anxiety that accompanies making an appointment with the dentist. When you come to us for dental care you can expect us to provide you with a comfortable experience that addresses your needs and alleviates any anxiety you may have. It's a priority for our staff to make sure you're at ease. Your oral health has an incredibly important impact on your overall health, so delivering a consistently positive experience is important to us.
We specialize in treating you and your family at every of stage of life. From early preventative care to dental implants, we offer a wide variety of dental services that will help you keep your smile healthy at any age!
You can count on St. Croix Family Dentistry for your routine exams and cleaning as well as any advanced procedures you may need. We strive to offer you the best dental experience possible. 
We serve the entire St. Croix Valley, covering both sides of the river in Minnesota and Wisconsin. Our office is located in St. Croix Falls, WI, but we serve the towns of Taylors Falls, Osceola, Dresser, Centuria, Luck, Turtle Lake, Grantsburg, and all the towns in between!
New patients are always welcome; we'd love to meet you! Check out what our current customers have to say.
Kept me Calm
Dr. Uddin is the best and his staff!! I am very nervous going to the dentist they calmed me and kept asking me how I was and if I needed a break. I would highly recommend this place and I'm very picky about my dentists.
Top Notch!
Honestly, I never thought I'd give a dentistry clinic such high marks, but this place is top notch. The whole staff is welcoming and kind. The professional services are great. They offer everything, but are never high pressure selling services.
Polite and Kind Staff
Amazing place!!! I called due to an extremely painful tooth and they got me in right away, fixed what needed to be done and made me feel so comfortable. Very polite and kind staff!
Highly Reccommend!
Amazing staff!!!!! I've never been happy to go to the dentist, who is, but no fears or anxiety walking in for appointments. Even my kiddos enjoy going! Would highly recommend!!!!!!!!
Favorite Dentist Ever
I moved 45 mins away from there 9 years ago, but still make the drive because Dr Uddin is hands down my favorite dentist ever, and I'm 51. He was great with my kids too. That I reallllly like my new dental assistant is bonus. I cannot recommend this Dr and staff enough.
Clean & Modern
Love this place... clean and modern office with classy staff and friendly hygienists. Dr. Uddin is super friendly and honest and doesn't push procedures down your throat. My entire family LOVES going to the dentist here! No dreaded trips with anxiety here, my kids walk right in and sit right down.
We'd love to hear from you.