How To Properly Brush Your Teeth
PRINTABLE GRAPHIC INCLUDED!
ARE YOU BRUSHING THE RIGHT WAY?
It's Oral Health Month, and that's always a great time to review proper brushing techniques! We even made you a handy poster to print off and hang up in your bathroom.
Proper Brushing Technique
We make it easy.
Follow these steps: 2 minutes/2 times per day!
Use a small amount of toothpaste

Brush the outside surface of all teeth using circular motion at a 45-degree angle.

Brush the outer surface of all teeth using up and down motion

Repeat inner surface of all teeth

Brush the tongue

Rinse out your mouth using water

Congratulations!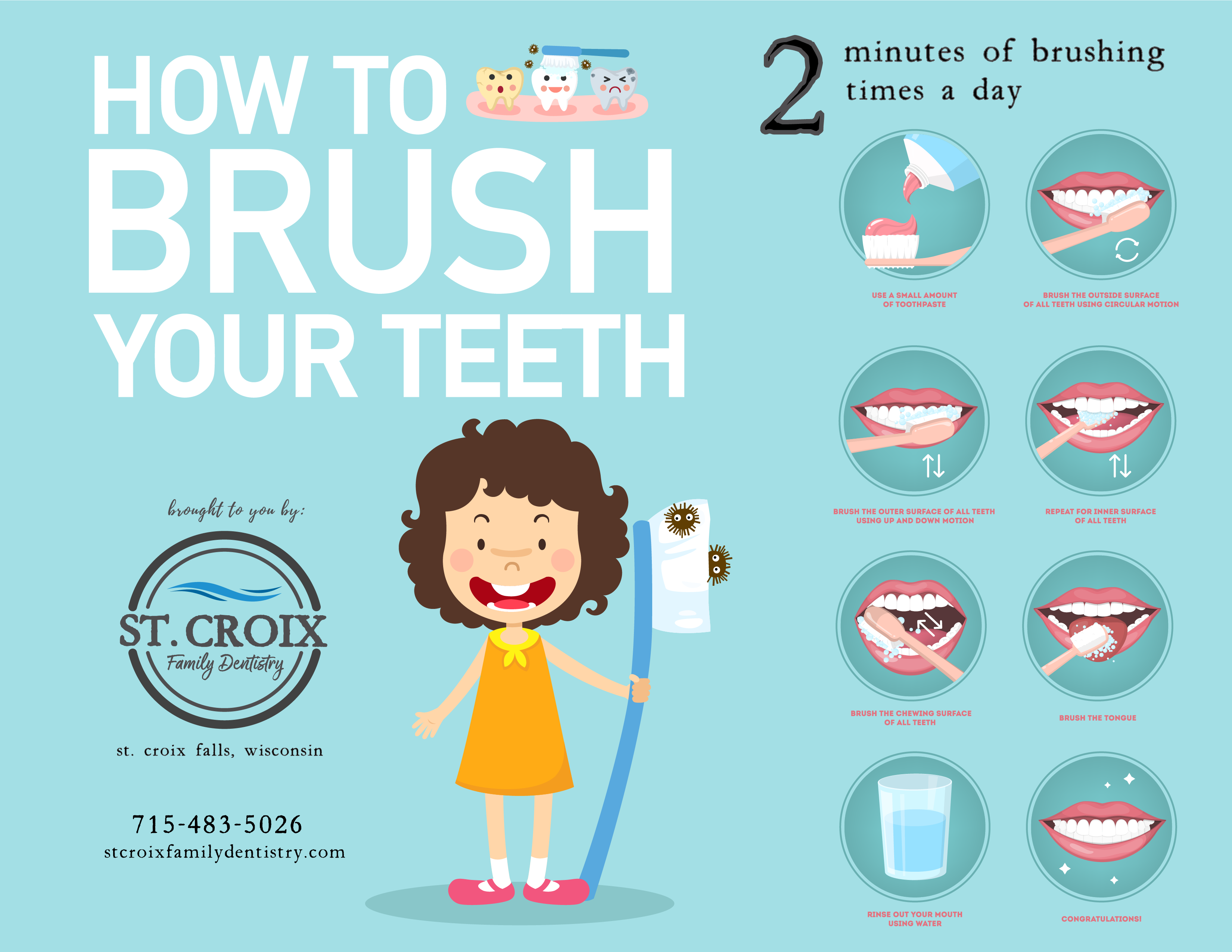 Choose the right brush and replace often!
Proper brushing is an important part of your dental care routine. The American Dental Association recommends brushing twice per day for two minutes at a time to maintain a healthy mouth and smile.
Use a soft-bristled brush to protect your gums. Ask Dr. Uddin, Dr. Crain, or one of our knowledgeable dental hygienists about selecting the right size and shape brush for your mouth.

Choosing the right size is important because it easily allows the brush to reach all areas.
If your bristles become worn or frayed, replace your brush because it won't do a good job of cleaning your teeth once the brush is damaged.

Even if your bristles are not worn, replace your toothbrush every three or four months.
Hold the toothbrush at a 45-degree angle at your gumline. Gently move the brush back and forth using small circular movements. The angle of the brush is an important part as this technique helps remove food from the tricky place where your tooth and gums meet.
Don't forget..it's about more than brushing!
FLOSS:
You should also remember to floss between teeth daily. Food can get stuck between teeth, and bacteria can cause tooth decay when allowed to linger. Flossing is also important because it can help to reach places where toothbrush bristles can't. It can remove plaque and leftover food tucked under the gum line.
EAT HEALTHY:
We all know that sugary beverages and snacks can affect your dental health. Be sure to include lots of fresh vegetables and other healthy options in your overall diet.
VISIT US FOR AN APPOINTMENT!
We love to see you at your appointments! Keeping up to date with your regular visits helps to maintain and even improve the health of your mouth. Call our office at 715-483-5026 to schedule your next appointment now!
we are part of your community
We proudly Serve the Entire St. croix Valley!
We serve the entire St. Croix Valley, including St. Croix Falls, Taylors Falls, Osceola, Turtle Lake & Grantsburg areas. Our full service dental clinic can still ensure you have the best dental hygiene possible. New patients are always welcome, so come visit us today to discuss your options. You'll see for yourself why patient satisfaction is so high. Our friendly staff are more than happy to help!
We'd love to hear from you.